LUXCARE XT
Protection is an exterior and interior environmentally-friendly appearance protection product. This product incorporates cutting-edge nanotechnology that penetrates the clear coat to provide long-lasting protection. The interior protection product uses a water-based sealant that is a highly effective deterrent against stains caused by food, drinks, permanent inks and pets. Included in the interior protection is an anti-microbial agent that fights against bacterial odors caused by mold and mildew from food or drinks.
Benefits:
Helps to maintain the color, texture and beauty of your paint
Creates a barrier against stains
Helps extend the life of fabric seats and carpets
Helps retain natural softness of leather seats
Help keep your vehicle looking new by buying LUXCARE XT Protection today!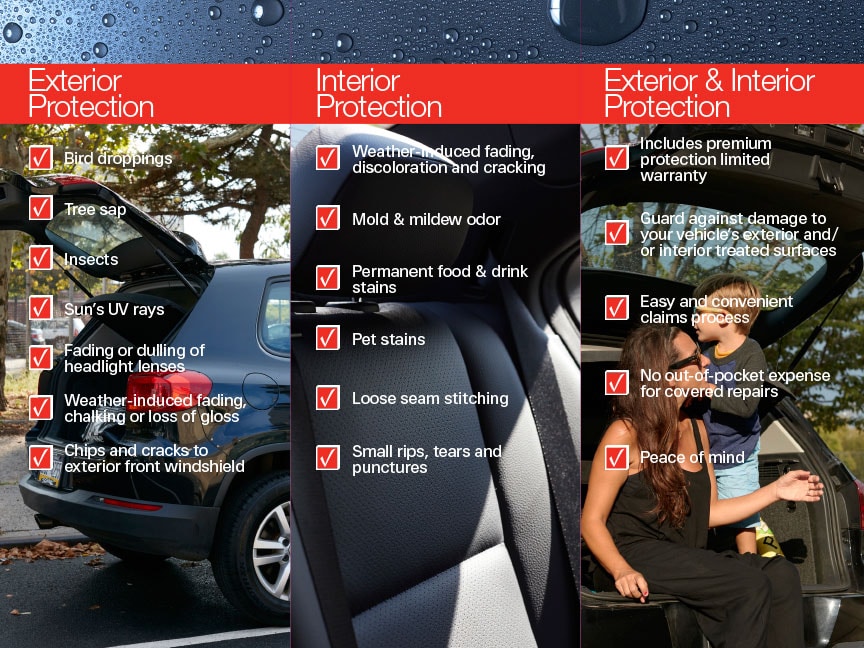 Limited Warranty Administered by:
In WA: Consumer Program Administrators, Inc. All other states: Automotive Warranty Services, Inc. All located at 175 W. Jackson Blvd., Chicago, Illinois 60604, 1-800-490-0934. In Washington, the Limited Warranty is referred to as a Protection Product Guarantee Limitations of Coverage: This information in this brochure is intended to provide only an outline of coverage. For exact coverage, exclusions and limitations, please review the Limited Warranty.